Products & Services


Products

LVL(Laminated Veneer Lumber) provides consistent and reliable engineering properties. It resists warping, twisting, bowing and crowning. LVL delivers more load-bearing capacity than typical grades of sawn timber, allowing for longer spans. Available in a variety of widths and lengths, LVL also allows for greater design flexibility than solid timber. Our F17 equivalent LVL is now factory coated with an ochre sealer to protect the product against moisture on site.

I-Joists are known for their value when it comes to size, strength, and reliability. Manufactured with a wide flange for greater stability and a larger nailing area, I-Joists offer exceptional performance and dependability. I-Joist product line offers flanges made of either solid sawn timber or LVL to meet the needs of residential, commercial or industrial applications. All I-Joists in this extensive product line are backed by a Lifetime Limited Warranty.
MGP10 Structural Pine

Machine Graded Pine 10 (MGP10) is a structural grade of solid pine used in framing and general building applications. MGP10 derives from a system of mechanical stress grading and is a more accurate method of assessing the structural capacity of pine. This system provides a set of grades with specific properties. The grades available are MGP10, MGP12 and MGP15.
Yellow/Red/Blue Tongue Flooring is structural grade particleboard sheet flooring for use in domestic and residential buildings. It is particularly suited to platform construction (where the floor is laid prior to erection of walls) as well as fitted floor construction. Particleboard Flooring with its distinctive colour-coded tongue Yellowtongue®, Redtongue® and Bluetongue® brands is the leading sheet flooring product in its class with proven reliability and durability. The most trusted brand in particleboard flooring with continuous monitoring during the manufacturing process, added weather protection with its hardwearing resin enriched surface and easy to identify sheet thickness by tongue colour
Yellow = 19mm
Red = 22mm
Blue = 25mm
Other features include:
Inbuilt moisture protection for cut sheets – wax impregnation throughout.
Moisture ingress minimised with edge wax seal.
Environmentally sustainable – All manufactured from Australian plantation pine

Laminated Beams are the environmentally friendly and more cost effective structural alternative to steel. They comprise of different strength group ratings and properties to allow them to be applicable in almost any construction application both structurally and decorative. Laminated Beams can achieve great spans and have exceptional load bearing capabilities, as well as appearance features over traditional LVL and Steel products. All beams are appearance grade A (B grade also available), use locally sourced, Australian sustainable timbers and are AS1328 compliant and accredited through third party auditing procedures by the GLTAA

The range we carry is as follows:
GL10(F11)
Durabeam™ Australian White Cypress

GL13(F14)
Radiata Pine (H3 treated also available)

GL13(F14)
Oregon

GL17(F22)
Slash Pine (H3 treated also available)

GL18(F27)
Victorian Ash / Tasmanian Oak


The flexibility of Glulam beams allows for the designer's creative imagination to be realised. Factory made members can be formed into any practical shape and any desired size. Curved members can be made specifically out of GL10 and GL13 Radiata Pine Laminated Glulam / Unilam Beams.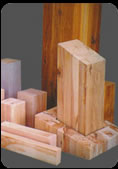 Cypress Posts Durapost® SPLIT-FREE POSTS Australian White Cypress incorporates the true heartwood for an ideal in ground and structural exterior post. Durapost ® SPLIT FREE POSTS is part of the GL10 Durabeam ® range using the same plantation Australian White Cypress and unique patented techniques, Durapost ® SPLIT FREE POSTS and can be manufactured to any size or length up to 300mm and come available in both solid and laminated options 90x90 up to 6m length (pre-coated with Cutek also available)

Durapost ® SPLIT FREE POSTS are perfect in the application of pergolas, fencing, veranda and alfresco areas. They offer a much more appealing "A" grade finish to the traditional treated pine post and a service life of up to 25 years in ground and over 50 years above ground.

CUTEK WOOD PRESERVATIVE is a specially formulated oil timber preservative for interior & exterior use that is designed to penetrate deeply into any species of timber, including hardwoods, to provide water repellency, and assist with dimensional stability. Cutek does not peel off or crack, but helps to control warping, cupping, and splitting; effectively enhancing the service life of timber. This characteristic ensures that future recoat preparation consists of a simple wash-down of the timber, rather than conventional sanding or stripping, resulting in significant savings in ongoing maintenance costs and time.
We offer a variety of engineered Decking / Cladding / Flooring and Screening products made from locally sourced and sustainably managed timbers, pre-coated and made to set lengths of up to 6.0m.
Cypress Duradeck™

Cypress Duraloc™

Cypress Duraclad ™

Cypress Drascreen™

Silver Top Ash
Our services include:


Experienced advice on suitability of Glulam design options, Sizing and connections to meet each clients particular needs.
Full engineering design and drawing facilities can be provided if required.
Complete building packages including design, manufacture, supply of all connections and components, and installation supervision is available.
Construction consultation
Off the plan amendments
To budget timber solutions and alternatives
Span and load service
Supply and delivery of a huge range of structural, engineered timber products at competitive prices.


Talk to us today about our range of steel alternative engineered timber products including these structural materials: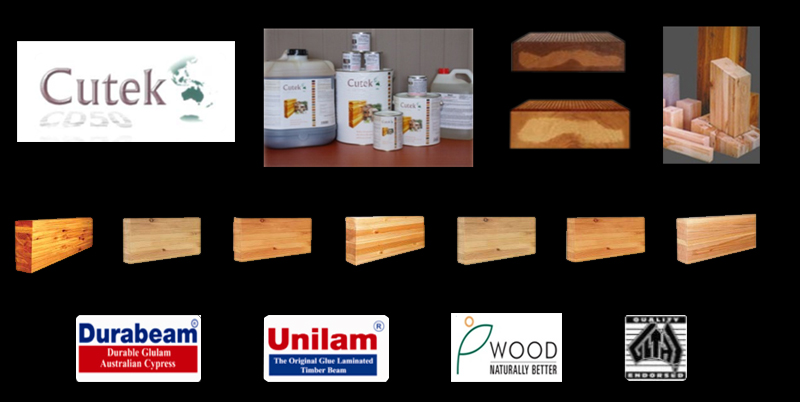 TES caters to a wider spectrum of structural timber building materials, talk to us for all your project needs. If it's an engineered structural timber product we can source it. 


Let TES make your next project a sustainable work of art.